Happy Thursday, everyone! This is a new feature hosted by Buried Under Romance and Love Saves the World.
What is Throwback Thursday: Historical Romance Edition?
Traditionally, Throwback Thursday celebrates nostalgia, asking participants to post a personal photo or an image from their past -- usually from 5 to 10 years ago. There are a lot of book blogs that also do a book-related Throwback Thursday. Since Tin and Mary C. are unapologetic lovers of historical romances, they've decided to focus on this beloved genre.
Here are the rules:
1. It must be posted on a Thursday.
2. It must be a historical romance novel published before October 2008.
THIS WEEK I AM FEATURING...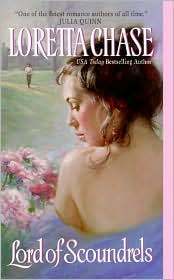 Lord of Scoundrels
by Loretta Chase
Originally Published in 1995

Tough minded Jessica Trent's sole intention is to free her nitwit brother from the destructive influence of Sebastian Ballister, the notorious Marquess of Dain. She never expects to desire the arrogant, amoral cad. And When Dain's reciprocal passion places them in a scandously compromising, and public, position, Jessica is left with no choice but to seek satisfaction...

Damn the minx for tempting him, kissing him...and then for forcing him to salvage her reputation! Lord Dain can't wait to put the infuriating bluestocking in her place -- and in some amorous position. And if this means marriage, so be it -- though Sebastian is less than certain he can continue to remian aloof...and stell his heart to the sensuous, head strong lady's considerable charms.
**********
"Jessica, you are a pain in the arse, do you know that? If I were not so immensely fond of you, I should throw you out the window."
She wrapped her arms about his waist and laid her head against his chest. "Not merely 'fond,' but 'immensely fond.' Oh Dain, I do believe I shall swoon."
"Not now," he said crossly. "I haven't time to pick you up."
One of the most popular historical romances of all-time and for good reason! Lord Dain's arrogant, bad boy nature paired with Jessica's razor sharp wit and forceful personality is explosive. Their chemistry is immediate and their love story is a definite journey that will hit all the major emotions. I adore intelligent romance and this is one of the best ever written!