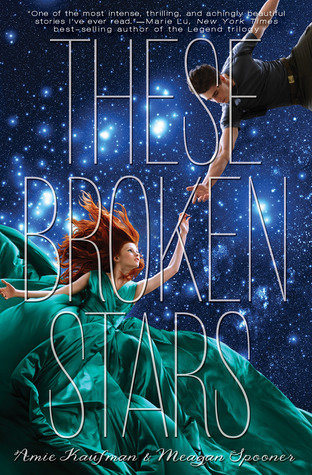 These Broken Stars by Amie Kaufman and Meagan Spooner
Young Adult -- Science Fiction

Disney Hyperion -- Published in December 2013
Hardcover, 374 pages
Read in June 2014
Borrowed from Library
THEMES
Alternating Points of View, Opposites Attract
SUMMARY
It's a night like any other on board the Icarus. Then, catastrophe strikes: the massive luxury spaceliner is yanked out of hyperspace and plummets into the nearest planet. Lilac LaRoux and Tarver Merendsen survive. And they seem to be alone.

Lilac is the daughter of the richest man in the universe. Tarver comes from nothing, a young war hero who learned long ago that girls like Lilac are more trouble than they're worth. But with only each other to rely on, Lilac and Tarver must work together, making a tortuous journey across the eerie, deserted terrain to seek help.

Then, against all odds, Lilac and Tarver find a strange blessing in the tragedy that has thrown them into each other's arms. Without the hope of a future together in their own world, they begin to wonder—would they be better off staying here forever?

Everything changes when they uncover the truth behind the chilling whispers that haunt their every step. Lilac and Tarver may find a way off this planet. But they won't be the same people who landed on it.


FIRST LINE
"Nothing about this room is real."
I am not the biggest fan of science fiction, but I have found myself reading and liking quite a few in the past three years. I was intrigued by the premise (and cover) of These Broken Stars from the moment I heard about it. While it is definitely not the best young adult science fiction novel I've read, I did enjoy this one and think that the Starbound universe is set up for some equally entertaining stories in the future.
The basic premise of this book is that the rich daughter of merchant (Lilac) and a decorated young soldier (Tarver) are the sole survivors of a tragic spaceship accident. These are characters that come from two different worlds and must learn to work together in order to find their way home after crash-landing on a most unusual planet. While the story does include a brief stint on a spaceship and discussions of futuristic societies and technology, it really comes down to just a survival story which I thought was an interesting twist.
Both Lilac and Tarver are fascinating characters who are skilled at putting on an impression for others. Readers figure this out pretty early on due to the fact that the story is told from their alternating perspectives. I am always a fan of this type of writing style especially when dealing with such well-developed characters. It does take some patience to really delve into the reasons behind Lilac's haughty behavior and Tarver's determination to survive at all costs, but I think the effort is worth it by the end. Another that I think is interesting about the characterization in this book is the way that the authors have Lilac and Tarver reacting to their situation. When they are on the Icarus, they are on Lilac's turf and it is obvious that it is her comfort zone. But, the accident forces them to trek across a mysterious planet relying on nature and Tarver's experience to survive.


The romance between Lilac and Tarver is one that takes time and some skill to make sure it developed properly. As I mentioned earlier, they are from two different lifestyles with their own prejudices and experiences. They are forced to interact with one another to survive and eventually figure out that they actually work well together. I do love a good opposites attract romance and this one was very satisfying in the fairly realistic way that the feelings changed amidst such harrowing circumstances.
The main issue I had with this book was the pacing. It started off with a bang (literally) and the early stages of Lilac and Tarver's adventure were filled with action and peril. But, by the middle, I felt like things started to really slow down in the plot. I understood that the authors were trying to amp up the growing friendship (and eventually more) between the two main characters, but I found myself a little bored. Thankfully, the plot did pick up again and even took some turns I never expected especially in a teen science fiction novel.
All in all, I did find These Broken Stars to be entertaining and romantic. The characters were very well-developed and it was easy to root for them by the end. I also liked the creativity of the remote planet and what its true purpose was in the greater Starbound universe. Kaufman and Spooner obviously make a great writing team and I look forward to more from them.
4 STARS
STEAM LEVEL
Blush
-- Kisses with no/minor touching.
FAVORITE QUOTE
"For a moment the image before us is frozen: our world, our lives, reduced to a handful broken stars half lost in uncharted space. Then it's gone, the view swallowed by the hyperspace winds streaming past, blue-green auroras wiping the after-images away. Until all that's left is us."
BOOKS IN THE SERIES
1. These Broken Stars
1.5. This Night So Dark (Coming October 2014)
2. This Shattered World (Coming December 2014)