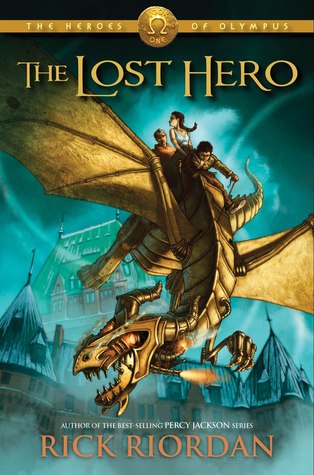 The Lost Hero by Rick Riordan
Middle Grade -- Fantasy

Hyperion -- Published in 2010
Ebook, 577 pages
Read in April 2014
Borrowed from Library
THEMES
Multiple Points of View, Mythology
SUMMARY
Jason has a problem. He doesn't remember anything before waking up in a bus full of kids on a field trip. Apparently he has a girlfriend named Piper and a best friend named Leo. They're all students at a boarding school for "bad kids." What did Jason do to end up here? And where is here, exactly?

Piper has a secret. Her father has been missing for three days, ever since she had that terrifying nightmare. Piper doesn't understand her dream, or why her boyfriend suddenly doesn't recognize her. When a freak storm hits, unleashing strange creatures and whisking her, Jason, and Leo away to someplace called Camp Half-Blood, she has a feeling she's going to find out.

Leo has a way with tools. When he sees his cabin at Camp Half-Blood, filled with power tools and machine parts, he feels right at home. But there's weird stuff, too—like the curse everyone keeps talking about. Weirdest of all, his bunkmates insist that each of them—including Leo—is related to a god.


FIRST LINE
"Even before he got electrocuted, Jason was having a rotten day."
MY THOUGHTS
The Lost Hero
is a great start to what I think will be another fabulous myth-inspired series by Rick Riordan. It is a spin-off of Riordan's popular Percy Jackson and the Olympians series and, while it could be read as a stand-alone, I highly recommend readers catch up on the prequels in order to fully understand this world.
This series deals with the Prophecy of Seven which states that seven demi-gods that will help determine the outcome of a great battle.
The Lost Hero
introduces readers to the first three half-bloods that are mentioned in the prophecy: Jason, Piper, and Leo. These characters share the narration duties so we get three different viewpoints rather than just the one like in the Percy Jackson series. I really liked this new style and Riordan does admirably with it.
I don't want to go into too much detail about Jason, Piper, and Leo in order to avoid spoilers, but I will say that Leo is, by far, my favorite. I just have a soft spot for the lonely guy who will do anything for a laugh. Piper's storyline is also pretty interesting and there is some definite fireworks potential in her future. The mystery behind Jason's sudden appearance and amnesia frustrated me for the first half of the book. It just seemed to drag on and on, but I will admit that, once the truth was revealed, I was hooked until the end.
Like with the Percy series, there are plenty of cameos from mythological characters. One thing that is different with this series is that Riordan is including creatures and deities from both Rome and Greece. He has an interesting approach to the similar, but still very different mythologies and how they are connected. The cameos that stood out the most to me in
The Lost Hero
were Aeolus, king of the winds, and Khione, goddess of snow. Riordan really knows how to provide readers with fascinating side characters that make them laugh and think at the same time.
Overall, I found The Lost Hero to be as interesting as the Percy Jackson books. There is a big reveal at the end that had me wanting to read the next book as quickly as possible. If you are interested in mythology and want to see an author successfully integrate it into the modern world, you can't go wrong with Rick Riordan.
4 STARS
"Can we just call them storm spirits?" Leo asked. "Venti makes them sound like evil espresso drinks."
BOOKS IN THE SERIES
1. The Lost Hero
2. The Son of Neptune
3. The Mark of Athena
4. The House of Hades
5. The Blood of Olympus (Coming October 2014)

CHALLENGES READ FOR