Happy Thursday, everyone! This is a new feature hosted by Buried Under Romance and Love Saves the World.
What is Throwback Thursday: Historical Romance Edition?
Traditionally, Throwback Thursday celebrates nostalgia, asking participants to post a personal photo or an image from their past -- usually from 5 to 10 years ago. There are a lot of book blogs that also do a book-related Throwback Thursday. Since Tin and Mary C. are unapologetic lovers of historical romances, they've decided to focus on this beloved genre.
Here are the rules:
1. It must be posted on a Thursday.
2. It must be a historical romance novel published before October 2008.
THIS WEEK I AM FEATURING...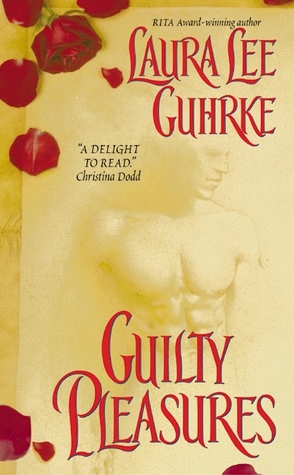 Guilty Pleasures
by Laura Lee Guhrke
Originally Published: January 2004

For prim and shy Daphne Wade, the sweetest guilty pleasure of all is secretly watching her employer, the Duke of Tremore, as he works the excavation site on his English estate. Anthony hired Daphne to restore the priceless treasures he has been digging up, but it's hard for a woman to keep her mind on her work when her devastatingly handsome employer keeps taking his shirt off. He doesn't know she's alive, but who could blame her for falling hopelessly in love with him anyway?

Anthony thinks that his capable employee knows all there is to know about antiquities, but when his sister decides to turn the plain young woman in gold-rimmed glasses into an enticing beauty, he declares the task to be impossible. Daphne is devasted when she overhears...and determined to prove him wrong. Now a vibrant and delectable Daphne has emerged from her shell, and the tables are turned. Will Anthony see that the woman of his dreams has been there all along?
*****************
This was a very entertaining read! The characters were relatable and deep and the love story was not contrived or stereotypical. The archaeology tidbits were fascinating, especially for a history nerd like me, but didn't take over the story at any point. There were a few points of the book that dragged a bit especially at the beginning, but it quickly righted itself. Read my full review
here
.