Feature & Follow Friday

is a blog hop that expands your blog following by a joint effort between bloggers. Feature & Follow Friday is now hosted by TWO hosts, Rachel of
Parajunkee
and Alison of
Alison Can Read
. Each host will have their own Feature Blog and this way it'll allow us to show off more new blogs!
This Week's Feature Blogs:
Patch of Sky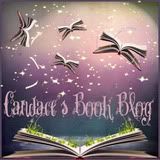 Candace's Book Blog
Q: Happy Fathers Day! Who is your favorite dad character in a book and why?
He's the typical dorky dad with his obsession with Muggles, but he cares deeply for his family (both blood-related and not). His sense of loyalty and honor is obvious throughout the series and I think he acts as a great role model for the Hogwarts gang.
Lola's two dads were some of my favorite secondary characters last year. I loved the way that Perkins didn't make a big deal about their relationship and just depicted it as it is, a normal family dynamic. One of my favorite scenes in the book was a discussion between one of the guys (don't remember which one at the moment) and Lola about not having a boy spend the night. When Lola asks, "what about when I'm married", he responds, "We'll buy a cot. Your husband can sleep on that when he visits." Love it!
Trevanion is a wonderful father and role model to his son, Finnikin. Even though father and son don't see each other for years, their relationship is a big part of both of their personalities. Finnikin is a great fantasy hero who probably wouldn't have turned out so fabulous without the guidance of his father.
*******
I have created different ways for you to follow my blog: GFC, LinkyFollowers, email, Twitter, or Goodreads. Comment, follow me, and I'll return the favor!!
********************
This Friday's Question
Most Valuable Book: From your personal collection of books, which ones hold the most value to you - is it signed by the author? or maybe it's your favorite story of all time? Share it with us.
There's a Nightmare in My Closet by Mercer Mayer
My all-time favorite picture book that I had read to me almost every night. I'm not sure what the appeal was to me, but it gives me some of my fondest memories.
William Shakespeare Collection
A graduation gift from my parents that is a box set of all of Shakespeare's plays. I am a huge British literature dork so this was right up my alley. Every once in awhile I will get a hankering for some Billy Shakespeare and pull out one of the bound volumes to revisit some of my favorite characters.
**********************
**BOOKS READ**
Exclusively Yours (Kowalski Family #1) by Shannon Stacey [4 Stars]
Talker's Graduation (Talker #3) by Amy Lane [3.5 Stars]
Handle With Care by Josephine Myles [4 Stars]
A Night Like This (Smythe-Smith #2) by Julia Quinn [4 Stars]
Touch (Denazen #1) by Jus Accardo [4 Stars]
Elemental (Elemental #0.5) by Brigid Kemmerer [3.5 Stars]
**REVIEWS**
The Gentleman and the Rogue by Bonnie Dee and Summer Devon [link]
Lethal Rider by Larissa Ione [link]