Feature & Follow Friday
is a blog hop that expands your blog following by a joint effort between bloggers. Feature & Follow Friday is now hosted by TWO hosts, Rachel of
Parajunkee
and Alison of
Alison Can Read
. Each host will have their own Feature Blog and this way it'll allow us to show off more new blogs!
This Week's Feature Blogs: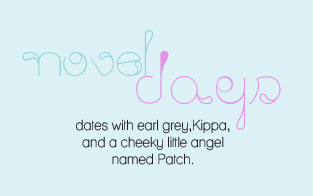 NovelDays
Hesperia Loves Books
Q: Have you ever looked at book's cover and thought, This is going to horrible? But, was instead pleasantly surprised? Show us the cover and tell us about the book.
I avoided reading Nalini Singh's amazing and original Psy-Changeling series due to the covers. I read a lot of romance so I have seen my fair share of bad covers, but there was something about these that just turned me off. Thankfully, I finally plunged into Slave to Sensation and, before I knew it, I had read every single book and was anticipating each new installment. I just wish that Ms. Singh was provided better covers for her wonderful series!
**********************
Promote An Author: Is there a particular author you wish got more recognition? Pick one author & tell us why we should read their work.
MIRANDA NEVILLE
She is a historical romance author who is slowly gaining popularity in the literary world. Neville has currently published four romances with another one due to be released at the end of this month. What I enjoy about Neville's work is that she takes romance novel stereotypes and gives them an entertaining twist such as the makeover of a hero rather than the heroine (The Dangerous Viscount). She understands the medium of historical romance and uses that knowledge to give her books an original feel.
***Booklist***
Never Resist Temptation
The Wild Marquis (The Burgundy Club #1)
The Dangerous Viscount (The Burgundy Club #2)
The Amorous Education of Celia Seaton (The Burgundy Club #3)
Confessions From an Arranged Marriage (The Burgundy Club #4)