Feature & Follow Friday
is a blog hop that expands your blog following by a joint effort between bloggers. Feature & Follow Friday is now hosted by TWO hosts, Rachel of
Parajunkee
and Alison of
Alison Can Read
. Each host will have their own Feature Blog and this way it'll allow us to show off more new blogs!
The two feature blogs this week are:
Once Upon a Time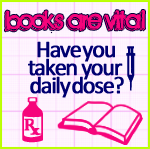 Question of the Week: When you've read a book, what do you do with it? (Keep it, give it away, donate it, sell it, swap it..?)

I work at a library so I get alot of books from there. In terms of books I buy, it all depends on the book. If I know I will want to read it again, I keep it and put in one of my many designated book cartons which seem to be multiplying everytime I open them up. Also, I will keep books that may not be my favorite if they are part of one of my favorites series. I am fanatical about keeping books in series together if I love it. For the other books that don't make it into the carton, I use PaperBackSwap religiously or donate to the library.
THANKS FOR VISITING AND HAVE A GREAT WEEKEND!